The Shamballa Light Center is located on five acres of Sonoran Desert, twenty minutes west of Tucson, Arizona. You are welcome to visit the Shamballa Light Center, meditate, and participate in our programs, We have limited space for housing but as our vision grows, so do our resources. Tent camping and RV hookups are available on site for short term stays. Nearby communities also provide housing in campers, recreational vehicles, domes, tiny homes, tipis, and tents. Contact us to plan your stay.
The Shamballa Light Center is co-located with a number of spiritual and intentional communities on 160 acres known as the Sacred Earth. Carved out of raw desert, the area is also a designated animal refuge. The land abounds in ground squirrels, road runners, rabbits, predator birds, and coyote just to name a few. We collectively embrace spiritual values, alternate lifestyles, low cost housing, farming, and building intentional communities. The different communities have varying goals, drug and alcohol use policies, housing options, work-study programs and other benefits. You may contact them for more information. Here is a brief overview of some of the intentional communities located on the 160 acre area that encompasses the Sacred Earth Communities.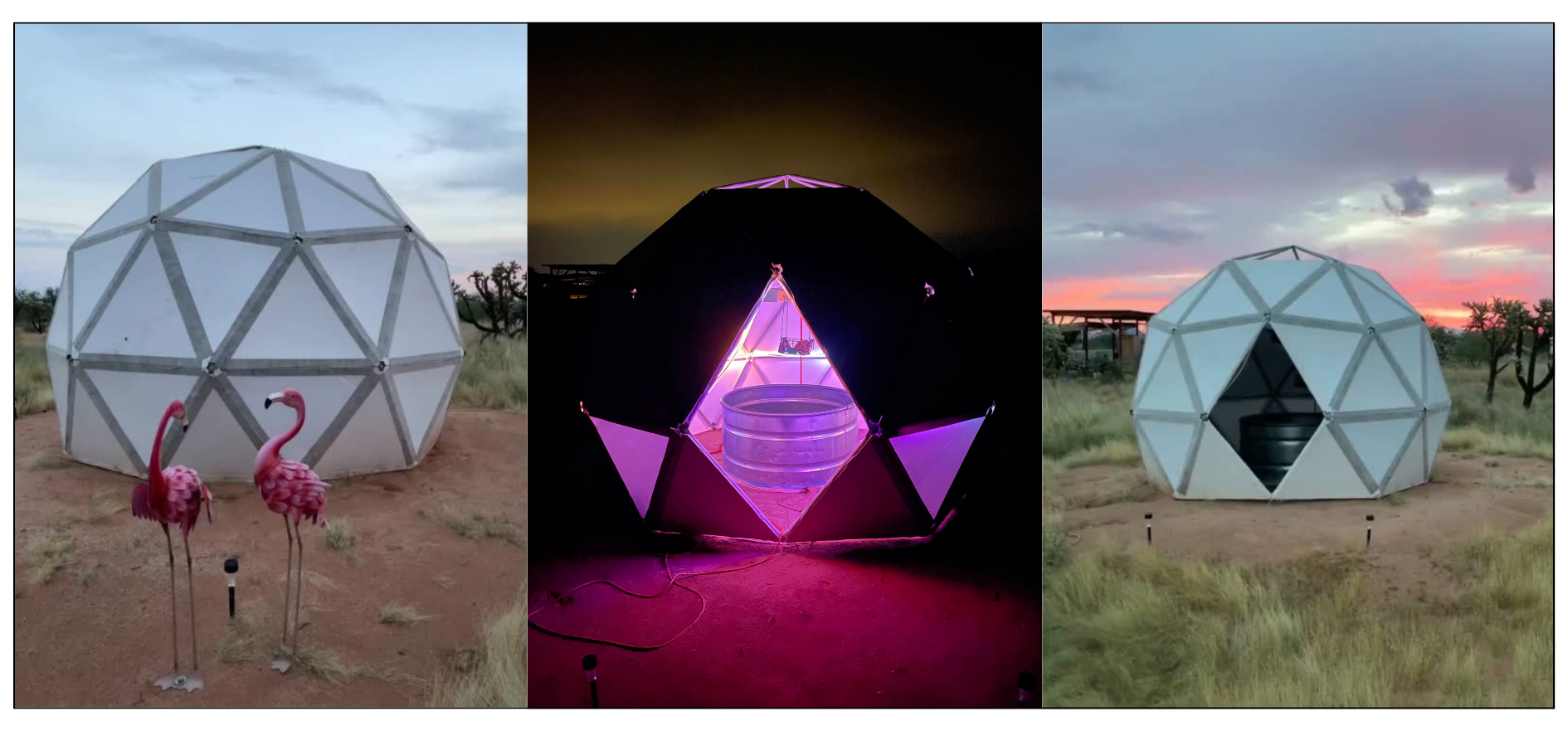 www.facebook.com/terrestrialrealms
Our next door neighbor to the north. With forty acres of space, this community offers alternate living off the grid. Members can park their vehicles or build residences to suit their lifestyle. With a five hundred foot deep well, farming is the focus.
DHARMA VISTA ZEN CENTER
A place offering free meditation with a focus on Buddhist beliefs and lifestyle. The owners have been working on building a zen meditation temple in the traditional zukuri style. Resistance from the county planning department concerning the designs continue to stall the project.
MANDALA SONORA WELLNESS RETREATS
Location of the Sacred Earth Ashram, Kirtan Stage, Yoga Dome, and the Bhakti Hearth. They have limited housing available and accept some year round residents. No contact information is available at this time.
TERRA SANTI VILLAGE
Located on approximately ten acres of space. As stated on their website, Terra Sante Village is a nonprofit community dedicated to experiments in sustainable living in the challenging environment of the Arizona Sonoran desert. It is a laboratory/community resource for projects in permaculture and locally sustainable agriculture, ecologic housing, solar and renewable energy, water conservation, and community development.
SHAMBALLA LIGHT CENTER
www.shamballalightcenter.org/donation-page
The Shamballa Light Center offers personal meditation retreats. Elder Bruce offers personalized meditation training in Zen Meditation. Work exchange programs are offered for people who want to stay on the property for an extended time. Group retreats invite people to explore personal growth in small group settings.