SACRED EARTH COMMUNITY GATHERING
SACRED EARTH COMMUNITY GATHERING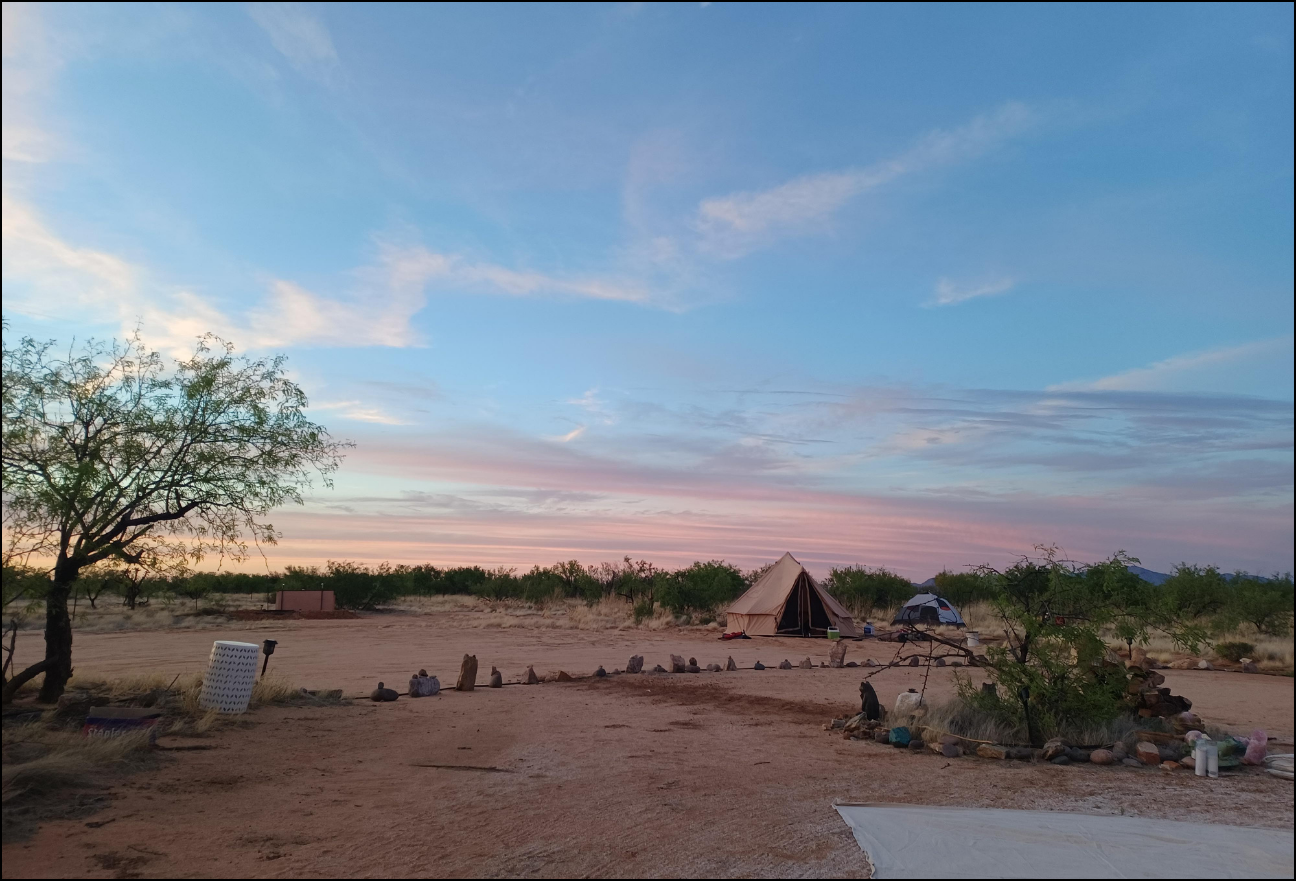 WELCOME TO THE SACRED EARTH
The Sacred Earth Community Gathering is a private annual camping event by invitation only.  This event is funded by your event ticket, which includes access to all events. Your ticket goes to fund electricity, porta potties, road maintenance, website and other community maintenance projects. Thank You!
SACRED EARTH GATHERING
APRIL 28TH – MAY 1ST, 2023
Event Costs
$55 – 4 day weekend pass Friday April 28th through Monday May 1st
$25 – day pass for

Saturday April 29th

or

Sunday April 30th
Camping – check-in with your property host regarding costs/donation for tent camping, car camping or other accommodations. 
Food is by donation. Suggested donations $3-$5-$10 per meal.
Or get a weekend food pass for a $50 dollar donation (can be more or less). Thank you for supporting the Sacred Earth!
PLEASE MAKE SURE TO READ THE IMPORTANT CAMPING INFORMATION BELOW
   There is WiFi at designated access points. 
Please read the information below.  
We are excited to host you. To Register for the event, click on the registration form at the BOTTOM of this page.
Below is the information for the event. At the bottom of the page you can purchase your event ticket. 
This will help us understanding who is coming, where they are camping and how many people we can expect for food.
We are asking a small fee for the organization of coordination of the community event. Our goal was to invite people to the Sacred Earth and share our experience with our friends. In order to keep the cost down, we are asking for your loving donation for food, trash and also please give generously to your host for camping. Because different land owners have different needs and organizations we decided to keep everything by donation. This gives everyone the freedom to pay as they can knowing that giving always results in receiving. 
Food is offered by donation. Several Sacred Earth community members have agreed to purchase food for the festival and host breakfast, lunch and dinner during the festival. Please pay what you can, all donations go to cover the cost of food.  Donations are sliding scale please pay what you can. Suggested donations $3-$5-$10 per meal or donate 

$50

 for a 

weekend

 

meal

ticket
.
You will see a donation box at each kitchen. 
FOOD DONATIONS GO TO THE SHAMBALLA LIGHT CENTER
There are private wells on the property. Water is pure, high quality and pumped from the group.
Please bring a water bottle to fill up at water stations located at food locations and with your camp host.
Showers facilities are limited on the property. There is a solar shower and an outdoor shower near the Bakti kitchen. Your host may also have showering facilities.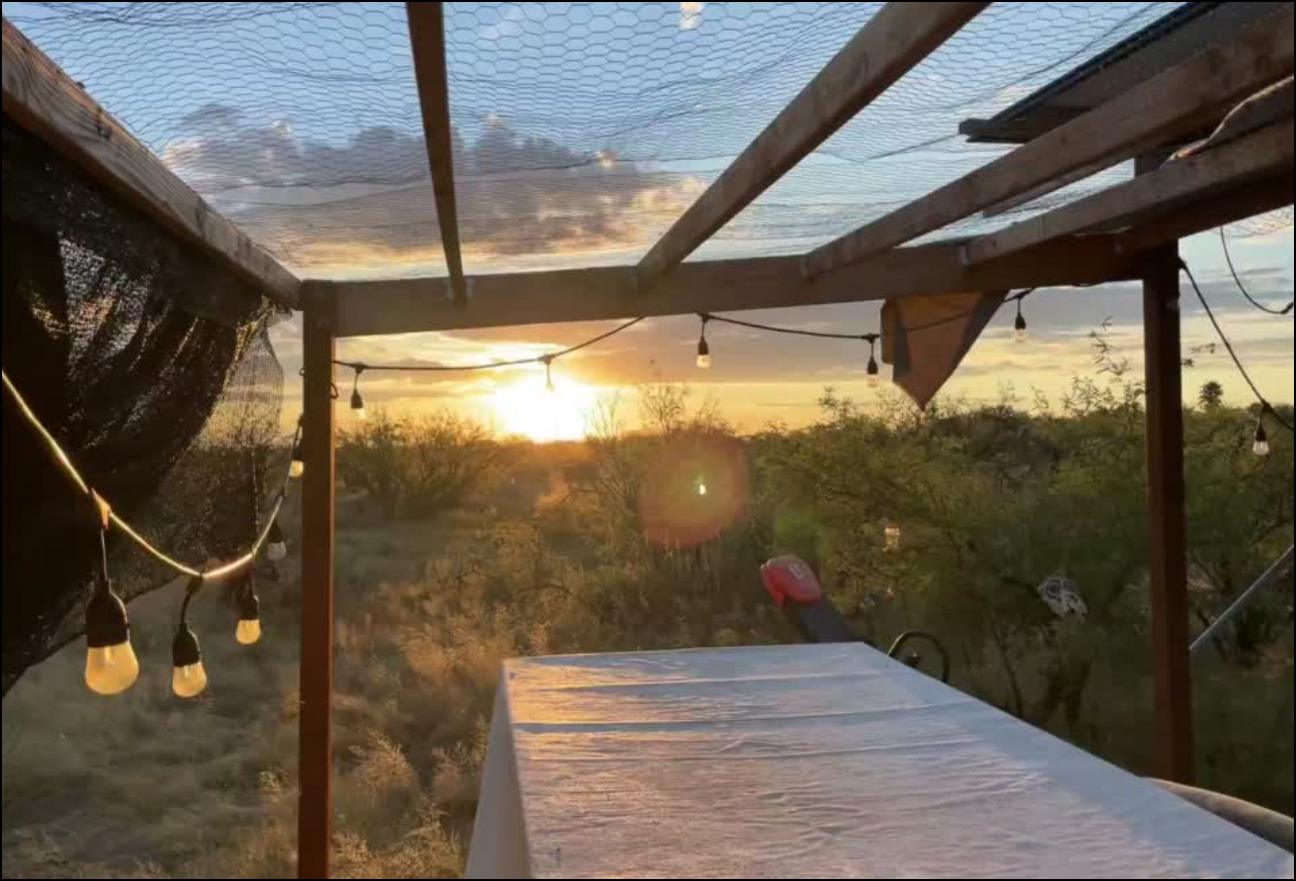 You can also find the schedule posted on white boards at food locations and other properties throughout the festival event locations. 
Bhakti Hearth – Located at the Mandala Sonoran Desert Retreat
Please bring your own dishware. Bring your own plates, cups and utensils.  For Work Party Campers – breakfast and dinner will also be provided.
You can bring your own food and camping cooking set up, but be aware there is limited space to store food. If you bring in an ice cooler, the nearest ice distributor is off the property about 5 miles. We have limited ice storage capabilities.
Meals will be offered vegan/vegetarian and lean protein. If you have a special diet and need to bring our own food please check in with your host regarding how to store food.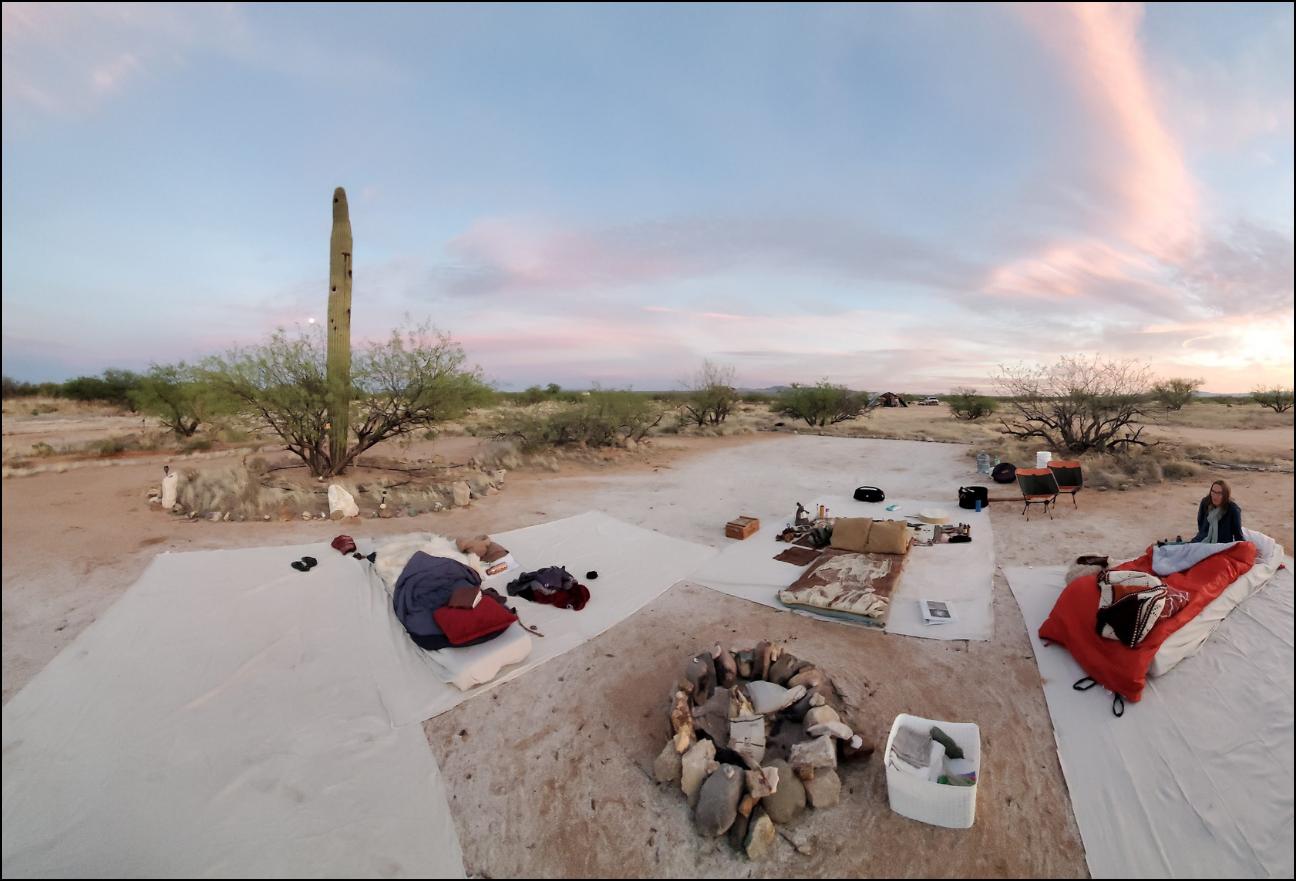 Camping is arranged by each landowner and is not included in the event ticket. There may be a fee, or donation asked for camping and that is determined by the host that invited you. There is a variety of different accommodations, but spaces are limited and on a first-come first-serve basis. Check with the person that invited you for more information about trailer accommodations, RV camping, car camping and tent camping on the Sacred Earth grounds.
Please beware of trash that you bring into the sacred earth or create. If possible please take your garbage out with you. There is a waste center a couple of miles away. If you need to leave trash bags we will ask for a donation to transport the garage off the property. Trash can be left at the kitchen center.
There will be porta potties located at different locations on the property. Some communities use composting toilets. If there is a composting toilet on your property you will be instructed how to use it. 
Drugs and Alcohol are prohibited. 
Although the event is 420 friendly, we discourage individuals from encouraging large group usage.  Alcohol is prohibited on many of the Sacred Earth properties. Many properties are spiritually based and promote health and healing.
Alcoholic intoxication, the excess use of psychedelics, abusive language or offensive behavior will not be tolerated. Sexual harassment will also not be tolerated.
We expect civil conduct. Conflict resolution should be addressed and handled through your host. If you are asked to leave for any of these reasons, a refund will not be issued. Participants that are acting inappropriately will be warned as a courtesy, and asked to leave. If the situation continues the Sheriff will be called. Thank you for making this a safe and enjoyable event. We look forward to your visit and your participation.
We discourage visitors from bringing pets to the Sacred Earth due to wild animals, poisonous planets, sharp cactus, the hot desert floor and other domestic animals on properties that may not be leashed. If you have a dog, and want to bring them along, please make sure they are on a leash at all times. It is against the law to keep them in your vehicle. Please pick up after your pet. Please bring your own doggie bags or if you forget you can donate $5 for plastic bags. Thank you in advance for being respectful.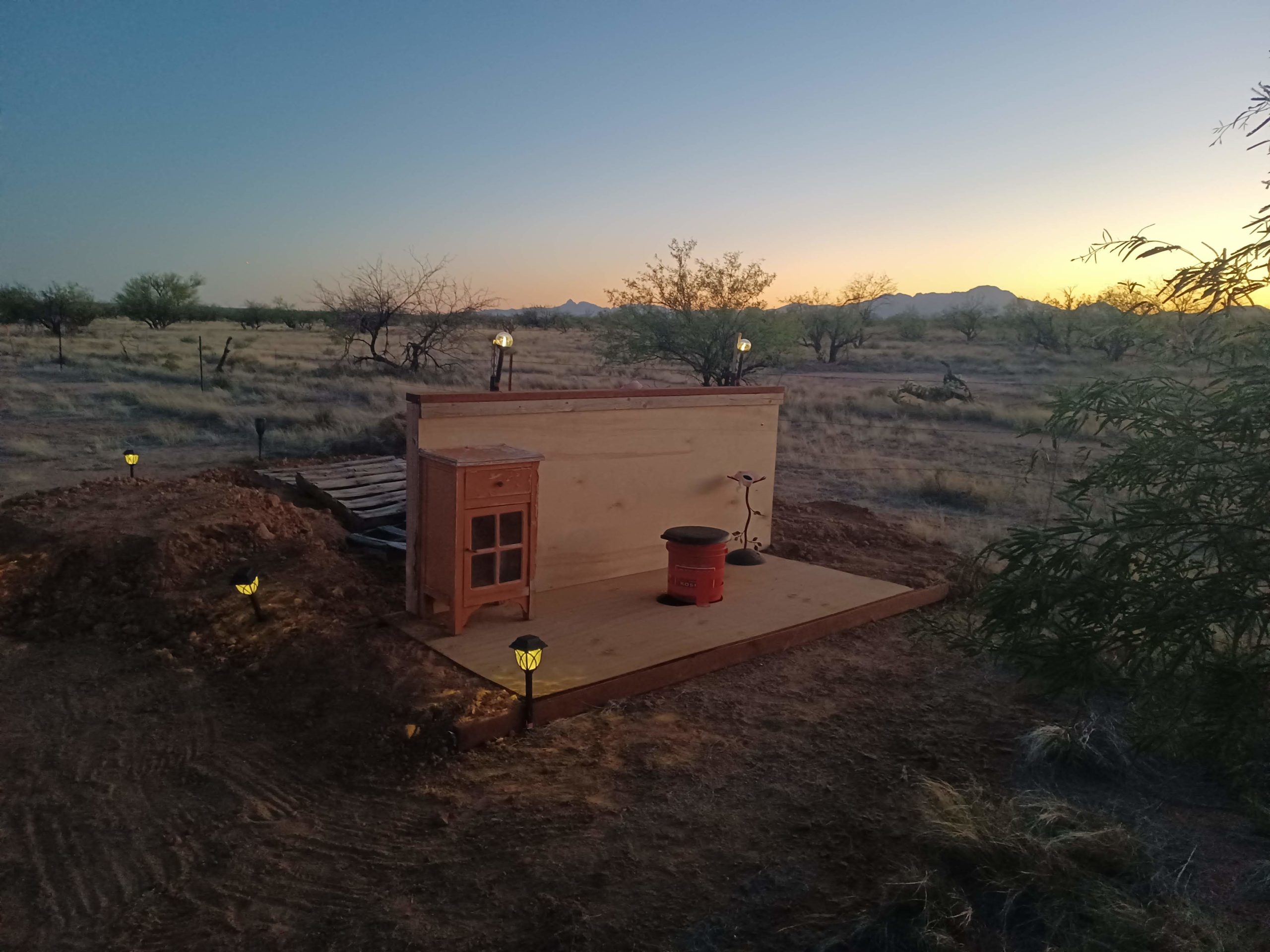 Sacred Earth Community Eco Farm, also known as the back 40 acres is clothing optional. 
Your host is responsible
for
your
behavior
. Please be
on
your best
behavior
. This is a private camping event meant to invite friends to experience different types
of
intentional and private communities that live
on
the
Sacred Earth. We set an intention to live
in
peace. 
Although there are planned activities
in
public venues, there are residents living
on
neighboring properties. Be respectful
of
their boundaries. County regulations prohibit loud noises after 10:00 PM. 
BHAKTI HEARTH
Location: Sonoran Desert Retreat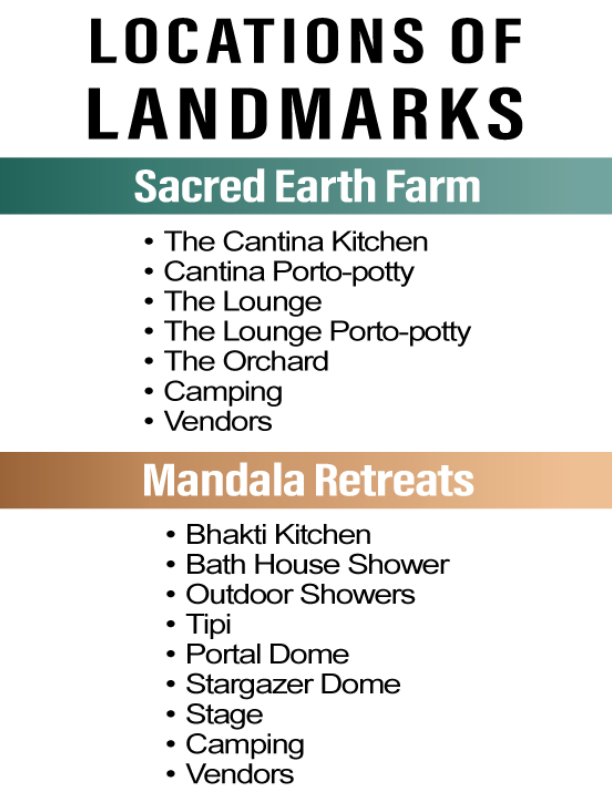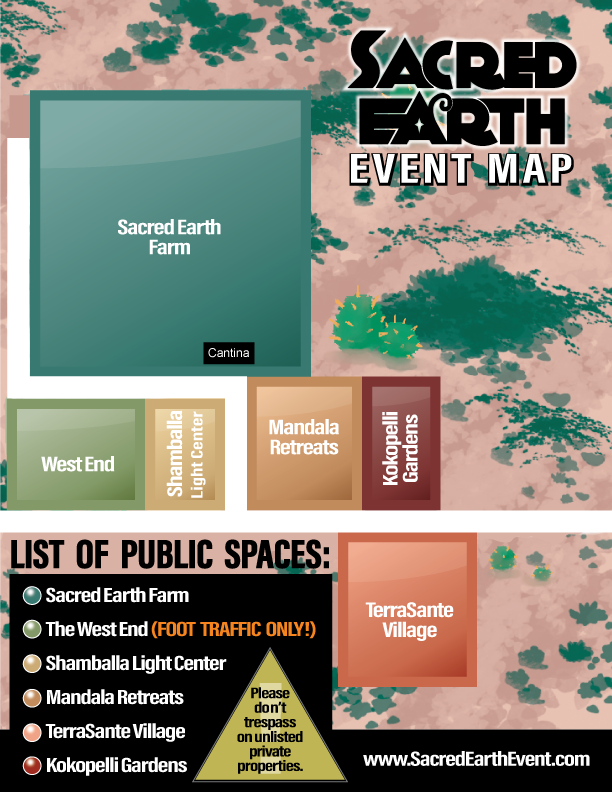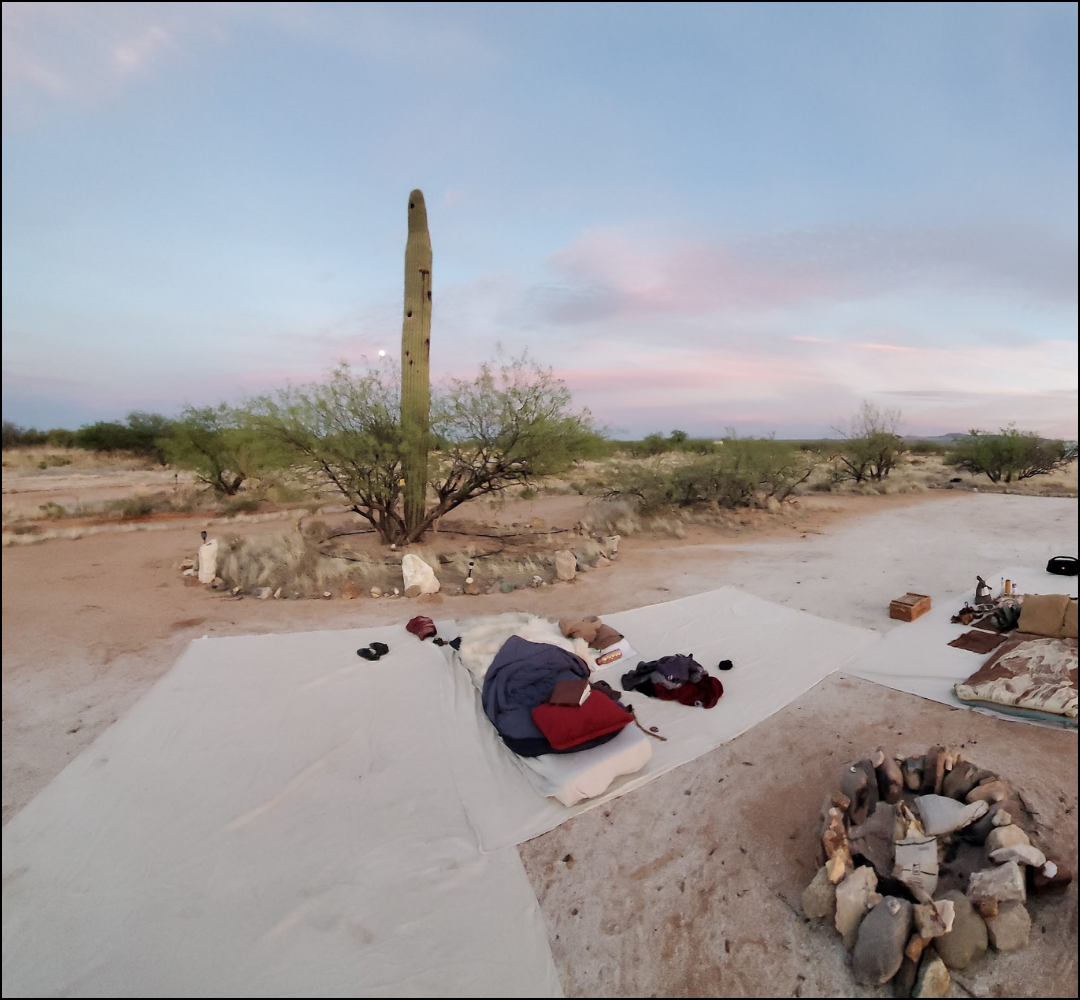 If you need a reduced rate for the event please consider volunteering for the event. We need help in the kitchen, at the registration table, gathering trash and putting up signs. Send us an email if you want to volunteer. If you have time, come as soon as April 22nd to help us start setting up for the event.
LET US KNOW THAT YOU ARE COMING!